DynastyMattress Therapeutic Luxury 12-Inch Memory Foam
DynastyMattress Therapeutic Luxury 12-Inch memory foam mattress is a pure luxury at a sensational price. It comes with four layers including 5-inch high density memory foam layer, 3-inch foam base and dual 2-inch airflow layers. The thicker comfort layer allows heavy people to sink deeper into the bed so that sleepers can enjoy the perfect conformability. The 5.3lb high density memory foam puts the whole body at the correct place. That helps reduce pressure points and alleviate the back or shoulder pain. The mattress is unavailable at the time of this update.
Click here to see if it's available
---
Features of DynastyMattress Therapeutic Luxury 12-Inch memory foam mattress
Low price
The fantastic price sells the mattress. Like many other mattresses sold online, Dynasty Therapeutic Luxury 12" memory foam mattress has an amazingly low price and the queen size is about 1/5 the price of name brand beds (check out the price). If you do some search, you will find the mattresses with the same density and thickness are incredibly expensive. Why spend thousands of dollars on a mattress when we can buy one at a lower price.
Comfort matters most
People who are looking for a comfy bed can be happy with this bed because Dynasty Mattress Therapeutic Luxury 12-inch uses a thicker memory foam layer. The 5" comfortable layer helps to provide more conformability and mold to your body. The thick soft layer is 5.3lb higher density memory foam compared to foams in many other mattresses are 4lb or lower density. That said, the sleeper can sink deeper into the bed and receive more comfort.
Also supportive
DynastyMattress Therapeutic Luxury 12-inch mattress is on the firm side and offers enough support for the body. That said, it gives the whole body the necessary support so that the sleeper can't feel the pressure points. Therefore, people who are suffering from back aches find it really work on pain relief.
Where is Dynasty Luxury 12-inch mattress made?
All Dynasty mattresses are made outside the USA. I learned somewhere else it is made in China. Although it is China made mattress, very few owners complained the reliability.
90 day in home trial
In addition to that, DynastyMattress Therapeutic Luxury offers a 20 year warranty and 90 day in home trial. Such a good return policy leaves little hassle to buyers when they have problems and want to replace or return the mattress and provides increased peace of mind for your purchase.
---
Issues of Dynasty Mattress Luxury 12-Inch memory foam mattress
Chemical smell
A few buyers mentioned it was smelly when they pulled it out the box and the smell stayed for a few days. Leaving the window open or using fans will help it air out.
Click here to get cheaper price and free shipping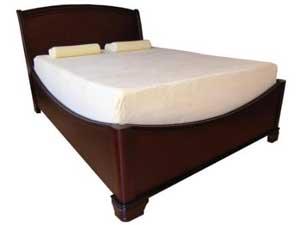 Customer reviews
"More importantly, the mattress is incredible to sleep on. My wife is already getting more sleep each night, though not all pregnancy trouble sleeping can be solved just by a mattress. :)" – Broderick Taylor
"This product is great….my husband and I have never slept better. It conforms to your body and there is no bouncing of bed on partners side when you move at night." – Kim Swiczkowski
"The shipping for this item was VERY fast and the communication from the company was great.There was a slight smell from the mattress but it was not bad at all and certainly gone within a day or two.This was for my sons bed and he LOVES it, saying that it molds to his body and is very comfortable.Overall we are very happy with this mattress and would recommend it." – Angela
---
Details
Available mattress sizes: California King, Full, King, Queen, Twin XL
5-inch memory foam
2-inch airflow layer
2-inch airflow layer
3-inch foam base
5.3lb foam density
---